Rosé SoirIN - SOLD OUT!
Date:
Time:
7:00 PM - 8:30 PM
Location:
At the most exclusive venue...your home!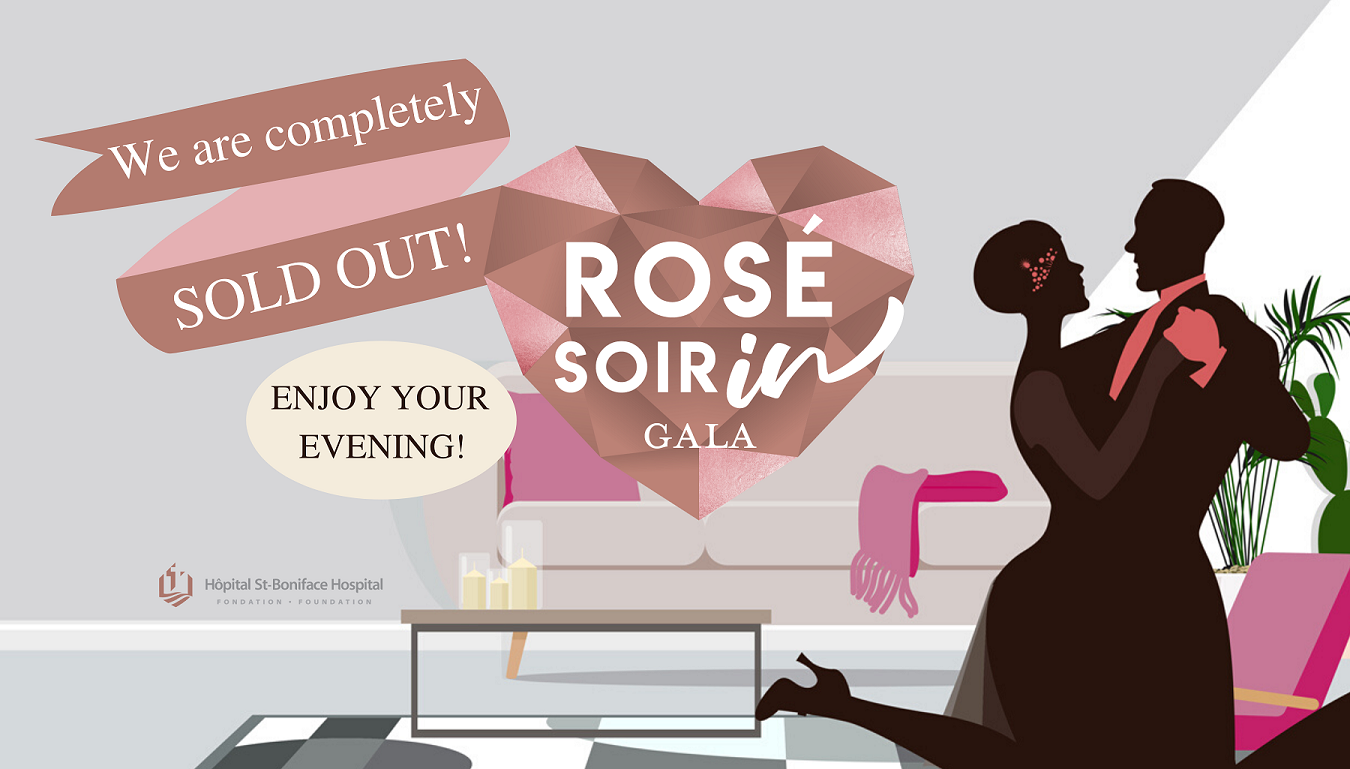 Rose SoirIN is officially SOLD OUT!
Enjoy a stellar lineup of up-and-coming and established Canadian musicians – including Juno Award winners and nominees, buzz-worthy emerging artists, and even a homegrown Broadway star! You will receive a secure link to an exclusive YouTube concert to watch on your smart TV, computer or mobile device. And you will be supporting patient care and medical research at St. Boniface Hospital - now that's music to anyone's ears!
To view the full all-Canadian artist line-up CLICK HERE!
Scroll down to the bottom of this page to buy your tickets!
---
Published April 30, 2020
Will it be black ties and ball gowns, or sweatpants and slippers?
The choice is yours while you savour cuisine and enjoy all-Canadian entertainment from the comfort of your home, all in support of research and patient care at St. Boniface Hospital.
ADULT Tickets Sold Out!
Two Adults Gala tickets include a three-course meal and signature pairings delivered right to your doorstep by 529 Wellington & Piazza De Nardi

Starter:

A Caesar salad and a Caprese Salad

Entrée Choice (All entrees will be accompanied by a side of Tri-colored baby creamer potatoes in a Truffle Vinaigrette AND a side of Sautéed green and yellow Zucchini and Asparagus):

Prime Beef Tenderloin grilled to medium

Fresh Wild King Salmon grilled and topped with a lemon Caper Vinaigrette
Lightly Breaded Chicken Breast with a delicate Lemon Mushroom sauce
Venetian Lasagna roasted mushrooms, carrots, zucchini, eggplant, celery, fresh Ricotta and with delicate tomato sauce, topped with a special blend of mozzarella, Parmigiano & Romano.

Dessert:

A HEART shaped strawberry shortcake with layers of fresh strawberries coated in Chantilly pink whipped cream and a HEART shaped Red Velvet chocolate ganache cake, complete with marzipan rose and a special message.
Drink Pairings:

Each couple will also receive a bottle of Rose Wine to share:

HUSH ROSE – BC VQA Okanagan Valley

Each guest will receive a can of Grisette with Sumac beer from Nonsuch - part of their Manitoba 150 collection.
All-Canadian line-up of artists performing right from your laptop
Please note the following...
We will be contacting you to confirm your food and drink order

Food delivery is scheduled between 6:00pm-6:30pm
The event program will begin at 7:00pm

Tax receipts will be issued after ticket purchase