WHAT IS RUN2BELIEVE?
Run2Believe Winnipeg is a 2K & 5K fun run/walk and a 10K certified, timed run. In 2020 we went virtual and this year, in 2021 we are still virtual, but we are adding options to bike, rollerblade or walk with your pets to allow everyone to be a part of the event!
You can choose to run on the beautiful urban trails of Winnipeg's French Quarter and The Forks, or at a location of your choice. The regular course will start, as in past years, on the Taché Promenade. Our 2021 course is the same 5K loop (5K runners and walkers will do one lap, 10K runners will do two laps).
As for the new 2K additions last year, participants will be able to complete on a route of their choice.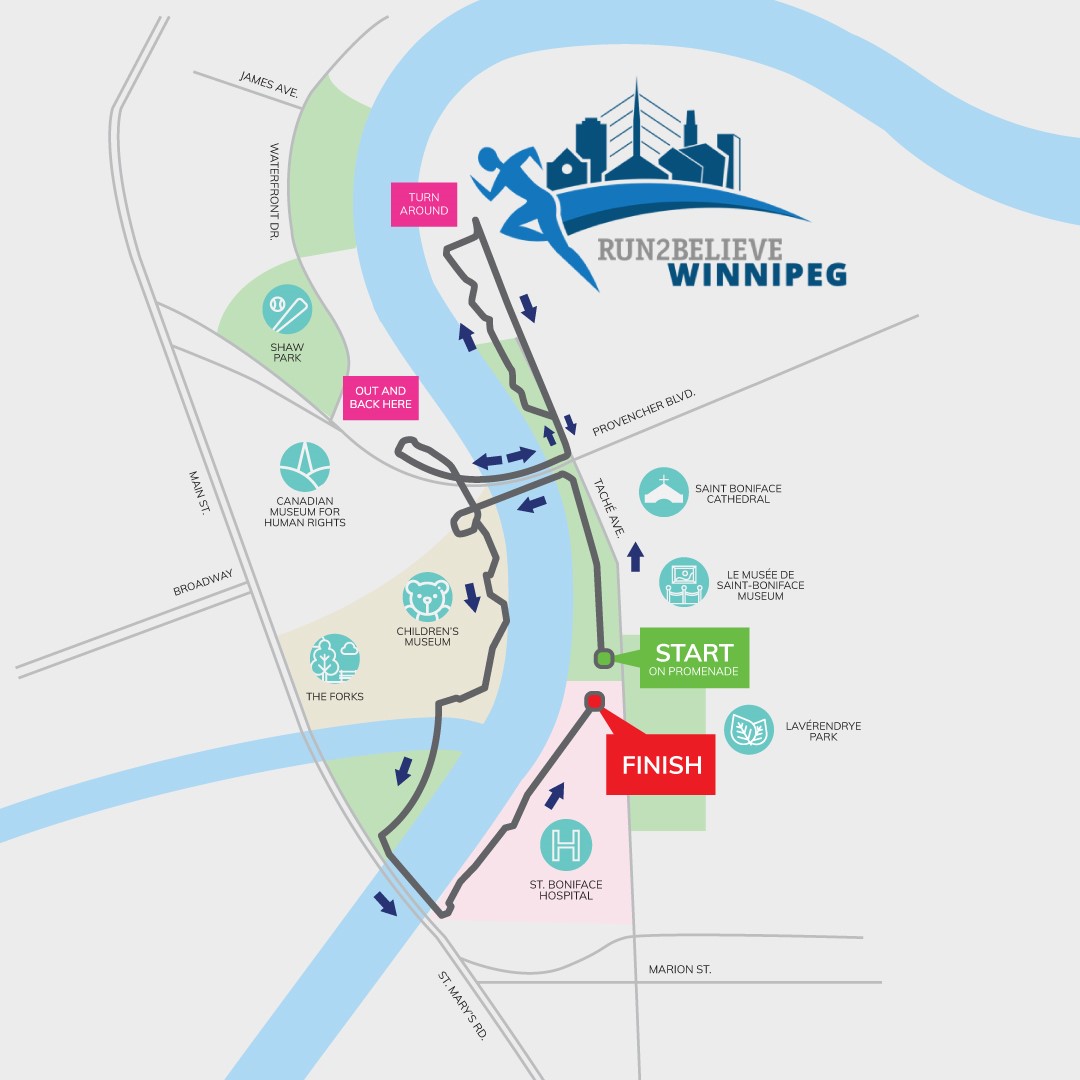 Download a copy of the course map

YOUR 2021 RUN RESULTS!
This page is updated as times come in. If you need to submit a time please send to us via Facebook or email our run coordinator Suzett at smongru@run2believewinnipeg.ca


WHAT'S INCLUDED?
Special youth pricing (under 21)

Free merchandise with entry

Finishers' medals

Awards for the three overall adult and youth finishers


HOW CAN I REGISTER?
You can choose to run / walk the 2K, 5K or 10K. The last day for online registration is September 26, 2021.


You have from September 16 – 26, 2021 to complete your distance.

At race kit pick up day on September 11th, you will receive your t-shirt, bib and medal.

Race kits are in LIMITED QUANTITY and only available for those who register before September 11th

Feel free to use the Run2Believe course. Running the course once is 5K, twice is 10K. See the course map above

Don't forget to wear your bib and shirt!

Use a fitness app to keep track for your distance and time. Apps such as Strata or Runkeeper

Post a photo / screenshot from your fitness app on Facebook tagging @run2believewinnipeg and #run2believewinnipeg

If you don't have social media, that's okay. Email your photo / screenshot to smongru@run2believewinnipeg.ca


After your run / walk present yourself with your medal! You have earned it! Take a selfie of you with your medal & post it on Facebook or Instagram, tagging @run2believewinnipeg and #RUN2BELIEVEWINNIPEG



RACE KIT PICK UP
LOCATION: Running Room, 2095 Pembina Hwy
DATE: Saturday September 11
TIME: 10:30am-1:00pm

ADDRESS:
Running Room
2095 Pembina Hwy
Winnipeg, Manitoba
R3T 5L1
HOW CAN I GET INVOLVED?
This year things are looking at little different due to COVID-19. We encourage you to start a team or just make a direct donation to the event.
We encourage everyone to also take photos on their run, and post these photo to social media using the event hashtag #RUN2BELIEVEWINNIPEG and also be sure to tag our account on Facebook and Instagram @RUN2BELIEVEWINNIPEG
Change your Facebook profile photo to the Run2Believe photo frame. Go to your profile, change profile picture and search "Run2Believe Winnipeg" in frames-Choose the frame and you're done!


HOW CAN I VOLUNTEER?
Our Volunteers are the heart of this event. We thank everyone who has volunteered in past years and hope to see you all again next year.
For more information about the 2021 event, contact run coordinator Suzett at smongru@run2believewinnipeg.ca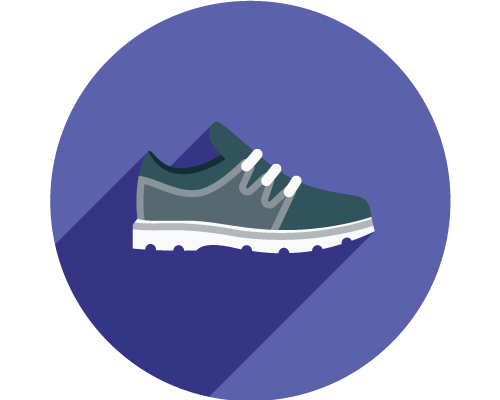 ---
QU'EST-CE QUE RUN2BELIEVE?
Run2Believe Winnipeg est une course/marche ludique de 2 et 5 km, ainsi qu'une course chronométrée et accréditée de 10 km. En 2020, l'événement a eu lieu virtuellement. En 2021, nous sommes toujours en mode virtuel, mais nous ajoutons des options, comme le vélo, le patin à roues alignées ou la marche avec des animaux de compagnie pour permettre à tout le monde de participer!
Vous pouvez parcourir les magnifiques sentiers urbains du quartier français de Winnipeg et de La Fourche ou choisir un autre endroit. Comme par le passé, le parcours régulier empruntera la promenade Taché. L'itinéraire de 2021 suit la même boucle de 5 km (un tour pour la marche et la course de 5 km et deux tours pour le parcours de 10 km).
Les personnes qui marchent ou courent sur 2 km peuvent choisir leur propre parcours.
Télécharger la carte du parcours
LES RÉSULTATS DE LA COURSE DE 2021!
CLIQUEZ ICI POUR VOIR LES RÉSULTATS
La page sera mise à jour au fur et à mesure. Si vous souhaitez nous faire part de votre résultat, veuillez communiquer avec nous par Facebook ou par courriel, à l'attention de la coordinatrice, Suzett : smongru@run2believewinnipeg.ca.
L'INSCRIPTION COMPREND
Tarif jeunesse (moins de 21 ans)
Articles gratuits
Médaille de finaliste
Prix pour les trois meilleurs jeunes et adultes finalistes
POUR S'INSCRIRE
Vous pouvez choisir la course ou la marche de 2, 5 ou 10 km. L'inscription en ligne se termine le 26 septembre 2021.
Vous devez parcourir la distance choisie entre le 16 et le 26 septembre 2021.
Le 11 septembre, vous pourrez obtenir une trousse contenant un t-shirt, un dossard et une médaille.
Les trousses de course sont offertes en QUANTITÉ LIMITÉE et sont réservées aux personnes qui s'inscrivent avant le 11 septembre.
N'hésitez pas à emprunter le parcours de Run2Believe. Un tour représente une distance de 5 km, deux tours représentent 10 km. Voir la carte du parcours ci-dessus.
N'oubliez pas de porter votre t-shirt et votre dossard!
Utilisez une application d'entraînement pour faire le suivi de la distance parcourue et de votre temps de course, par ex., avec des applications comme Strata ou Runkeeper.
Publiez une photo ou une capture d'écran de votre application sur Facebook, en identiquetant @run2believewinnipeg et #run2believewinnipeg.
Si vous n'êtes pas dans les médias sociaux, pas de problème. Vous pouvez transmettre votre photo/capture d'écran à smongru@run2believewinnipeg.ca.
Après votre course/marche, montrez-vous avec votre médaille! Vous l'avez mérité! Prenez un égoportrait avec votre médaille et publiez-le sur Facebook ou Instagram en identiquetant @run2believewinnipeg et #RUN2BELIEVEWINNIPEG.
DISTRIBUTION DES TROUSSES DE COURSE
ENDROIT : Magasin Running Room, 2095, chemin Pembina
DATE : Le samedi 11 septembre 2020
HEURE : 11 h à 13 h
ADRESSE :
Running Room
2095, chemin Pembina
Winnipeg (Manitoba) R3T 5L1
POUR CONTRIBUER?
Cette année, l'événement sera un peu différent en raison de la COVID-19. Nous vous invitons à former une équipe ou à simplement faire un don.
Nous encourageons tout le monde à prendre des photos sur le parcours et à les publier dans les médias sociaux en ajoutant le mot-clic de l'événement #RUN2BELIEVEWINNIPEG en plus de nous identiqueter sur Facebook et Instagram @RUN2BELIEVEWINNIPEG.
Changez votre photo de profil sur Facebook en utilisant le cadre photo de Run2Believe. Accédez à votre profil pour changer la photo de profil, puis cherchez « Run2Believe Winnipeg » dans les cadres. Choisissez le cadre et voilà!
FAIRE DU BÉNÉVOLAT
Nos bénévoles sont au cœur de cet événement. Nous remercions toutes les personnes qui ont travaillé comme bénévoles au cours des dernières années. Nous espérons vous revoir l'an prochain.
Pour plus d'information sur l'édition de 2021, veuillez communiquer avec la coordonnatrice de l'événement, Suzett, à l'adresse smongru@run2believewinnipeg.ca.